Quilts are a remarkable way to show someone you care. The choice of themes and colors are always endless, and there are also new ideas and techniques springing up all the time.
At first start, it is vital to know where to go for help. Watching internet videos can help by walking you through each step of the process. Online videos can also help if you get stuck and do not know what to do next, or how to follow the instructions that with which you were provided.
The most important thing is to take your time and enjoy. Quilting is meant to be a relaxing hobby that brings satisfaction through the use if intricate skills and techniques.
Why You Should Buy a Quilt Kit
Sometimes it is helpful to purchase a quilt kit for beginners. Quilting combines many techniques that may be unfamiliar and the instructions that packages include may turn out to be very useful.
The best quilt kits for beginners include all necessary supplies and directions to create a beautiful quilt, but it may be beneficial to provide your ruler, mat, sharp scissors, and other essentials. Some kits may include these items, but they may not be of the best quality.
Quilt kits are easy to make, and the directions are simple to follow. Beginning a quilt from a quilt kit might be the best way to discover a new love for the creation of beautiful quilting work.
Quilt Kits Are Convenient
Choosing to purchase a quilt kit made for beginners is a smart decision even for experienced quilters. These kits offer the convenience of all necessary supplies, saving the effort of having to think of every little necessity that you may require.
Quilt Kits Save Time
Quilt kits offer all supplies in one package, so you may save time going from store to store in your area. Some more rural areas do not have a large craft supply store.
Quilt Kits Save Money
These kits also save money, as the cost of purchasing individual supplies can add up quickly.
Quilt Kits Guarantee A Beautiful Product
Detailed instructions are always provided in the box. These instructions, if read and followed carefully, ensure that your time is not wasted on a finished product that you do not like.
Where To Buy Quilt Kits For Beginners
There are several places to purchase a quilt kit, but my favorite for one stop shopping is Etsy, one of the best sites for fat quarter bundles and quilting kits. Before buying any quilting kits, make sure you thoroughly read each listing to confirm you're getting everything you need!
Here are a few of my favorite quilt kits for beginners.

This kit from The Clever Quilt Shoppe is one of my favorite finds for those new to quilting! This quilt is bright and colorful, and the instructions could not be easier to follow, with actual videos available to watch along with while you work on your quilt!  The kit even comes with a Creative Grids multi-size triangle 45/900 ruler, making this quilt kit for beginners a particularly fantastic value! This kit does not come with backing, but they do sell coordinating fabrics so you can pick your favorite one!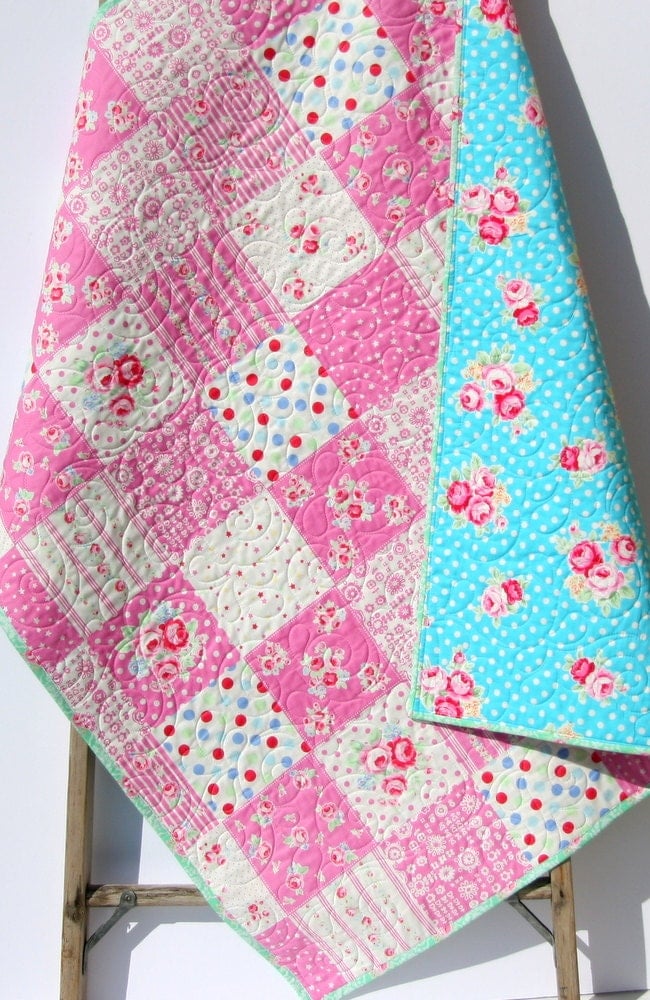 Sunnyside Fabrics is the perfect shop if you're looking to start a quilting project for your favorite little boy or girl! There are over 100 different baby quilt kits to choose from, from super girly, floral and polka dot printed quilts, to rustic, hunting and forest-inspired quilt kits for boys. In addition to kits, you can also pick up additional fabric, including several organic cotton selections, batting, and even more easy quilting patterns for beginners!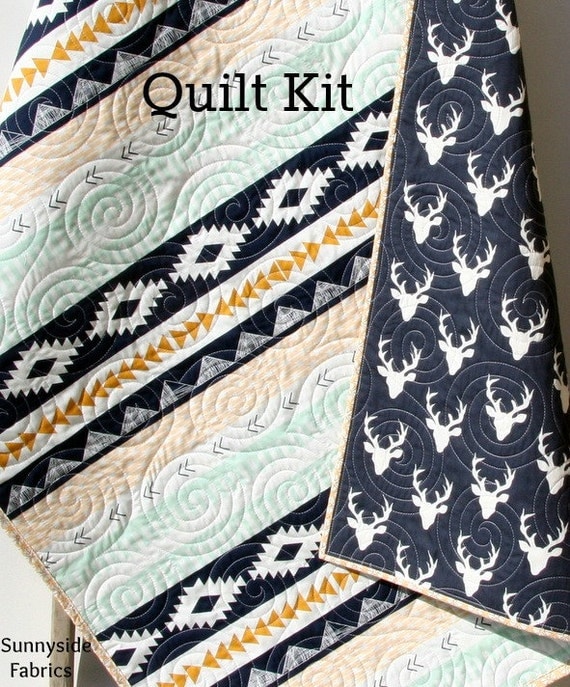 Here is an example of one of Sunnyside Fabrics' cute tribal quilt kits for boys. If you're looking for a super easy beginner quilt kit, this is it! It comes with the Arizona top panel, backing, and binding. All you have to do is sew them together and bind it however you like! The finished quilt is a great gift for any new mom expecting a boy!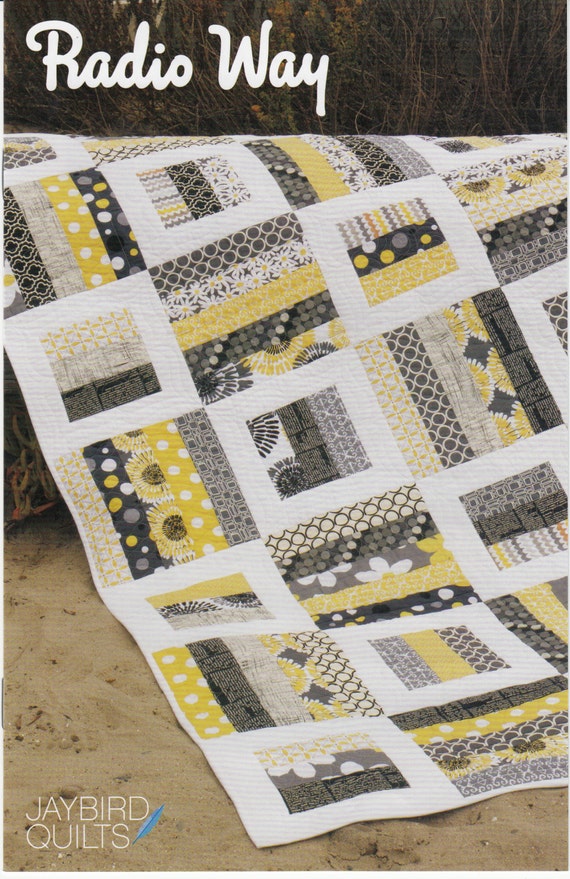 This Radio Way quilt by Jaybird Quilts is a clean and simple design, and be customized with fabric of your choosing from the Etsy shop We Do Quilts. They have tons of different fabric sets (called 'jelly rolls') to choose from with your kit. I love this idea, because it lets you design your own quilt kit. It's also great if you're planning to buy this kit to make as a gift, because you can choose colors and patterns you know they will like best.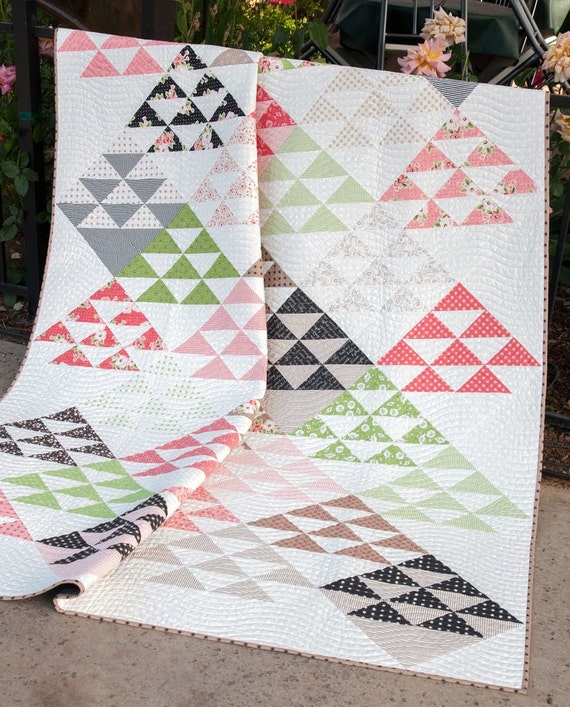 This kit is perfect for quilter who has made a few quilts and is ready to move on to something just a bit more intricate. The Homestead quilt by Vanessa Goertzen is available from Olie and Evie. This shop has tons of beautiful fabrics, patterns, and kits for quilters to go wild over. My personal favorite is the Checkmate Quilt Kit, for those intermediate quilters looking for a fun new project!
Final Thoughts On Quilting
There is something unique about making a quilt. Perhaps it is the energy, time, and creative thinking that it takes to create perfect lines and a beautiful design. Creating a brand new quilt for a friend or as a family heirloom can sometimes be a challenge, even for the professional quilter.
That is why there is now quilt kits for beginners that are designed to help those who are just starting off in quilting. These do-it-yourself, beginner kits make it easy for anyone to craft their very own quilt in no time. Professionals enjoy these quilt kits for beginners, too, as a way to explore current techniques, or take an easy break from more complicated projects.